At the beginning of the year I spoke of a few intentions that I hoped would set me on a more productive, yet less stressful year. It has always been important to me to move towards a more mindful lifestyle which has included recycling, using my reusable shopping bags and reducing my dependance on material things (i.e. shopping).
I also mentioned that I wanted to simplify and save money. So, over the past month I have been using up half used bottles of shampoos and conditioners, as well as items in my pantry that I bought for some recipe or another but never used. My hair hasn't fallen out and I've enjoyed some really great breakfasts following this rule.
But now, I've taken things one step further. Since it's always been a struggle to buy quality beauty products that are not only environmentally friendly, not tested on animals, work with my hair/skin type and are still
affordable
I decided to go back to basics. Yes, I am making some of my own products.
It actually started off when my friend and fellow blogger, Sheri, over at
Motivation For Health and Fitness
posted her sister-in-law's Esty shop on Facebook. That's where I picked up my Shampoo Bar and a body soap. I then went online and compiled a few recipes for a facial toner and hair rinse. After a week of using these items I am happy to report that my hair and skin look and feel great. I plan on updating my results later this year after I've had some time to really see how these work in the long run.
Shampoo Bar
~
JillsNaturalSoaps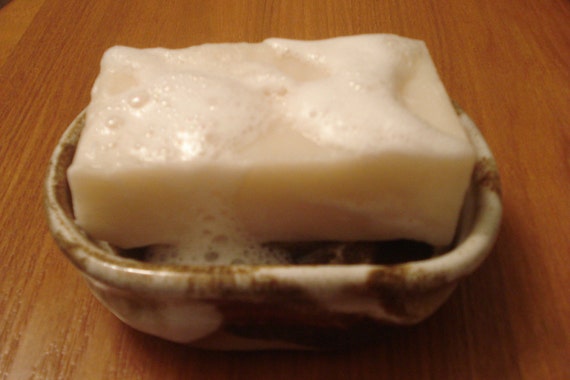 via JillsNaturalSoaps
Homemade Hair Conditioner
1-4 TBS Apple Cider Vinegar
1 cup water
Mix and apply to hair. Let sit for 1 minute and rinse. Vinegar smell disappears as hair dries.
Facial Cleanser
Cold-pressed Extra Virgin Olive Oil (use sparingly)
Warm wash cloth
that's it...
Homemade Toner
1/2 ounce apple cider
3 ounces mineral water
5 plain (uncoated) aspirin, crushed
Mix all ingredients and use sparingly. Keeps for 1 month in refidgerator.
Reusable Shopping Bags
Most of you know I am a firm believer in reusable shopping bags. This is mainly because I'm lazy and always forget to take those pesky plastic bags back to the grocery store for recycling. After 2 years I've been able to train myself to have my shopping bags ready and available for 99% of my grocery store trips (I also take them to Target, Costco and pretty much anywhere I plan on making a purchase).
As an added benefit I noted this on my receipt after a recent trip to Raleys:
Using my bags is helping our public parks and wilderness programs...Win-Win!
In addition, I've been experimenting with homemade cleaning products via
Elephant Journal
and
The Good Human
. I'll let you know how that goes in a future post.